[Shared by Lavender and  Lovage]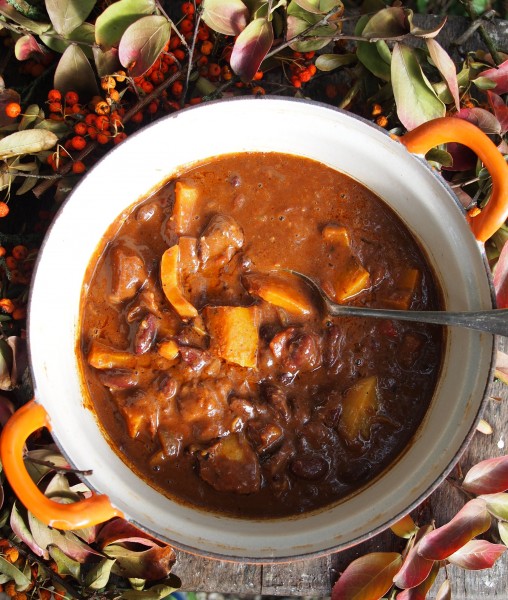 Organic October and Autumn Suppers:
~ Bonfire Chilli with Beef, Chocolate and Pumpkin ~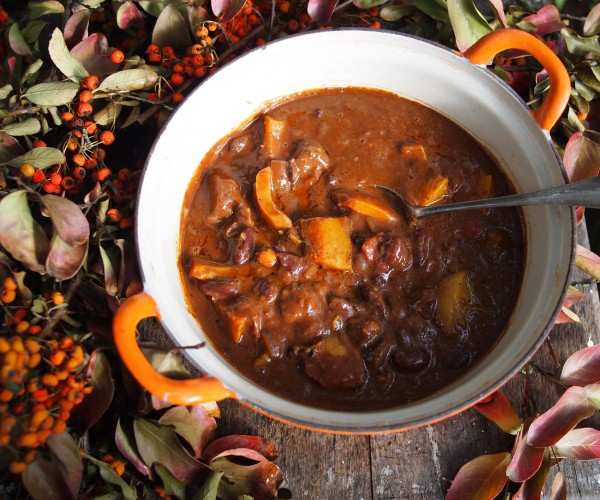 Organic October and Autumn Suppers: Bonfire Chilli with Beef, Chocolate and Pumpkin
Autumn means……..
crisp mornings, misty mornings, crackling leaves, vibrant berries, Old Man's Beard in tangled hedgerows, apples on damp grass, the smell of wood smoke, bonfires, woolly scarves, boots, red mittens, duffle coats, log fires, glistening dew covered cobwebs, pumpkins, candles, piles of books on the bedside table, crumpets, casseroles, dumplings, steamed puddings, the last rose of summer, fireworks, hot chocolate, fluffy duvets, tartan rugs, fireside suppers, Arran jumpers, wellies, toasting forks, hot buttered toast, soup, toffee apples, bright stars, wind, rain, cordite, robin redbreasts, orange and scarlet, gold and russet, big socks, sausages, tomato soup, cassoulet and chilli……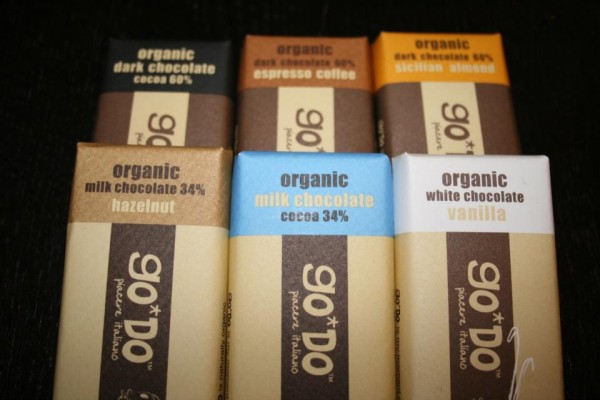 GO*DO Organic Chocolate Bars
……and in this chilli recipe I'm sharing with you today, is a very special ingredient, organic chocolate for a richness and depth of flavour that goes to well with the British beef and home-grown pumpkin. Whilst attending Jane Baxter's Pop Up Kitchen at the Abergavenny Food Festival recently, I was lucky enough to take home an Organic Goodie Bag stuffed full with all sorts of delicious ingredients and products, including some GO*DO organic chocolate bars……In Italian the word GODO means to enjoy sensual pleasure. GO*DO chocolate bars are made by a third-generation Italian family in their state-of-the-art factory near the Italian Lakes. They have total control "from bean to bar " – farming the cocoa, harvesting the beans, making the chocolate and forming the bars. Their cocoa beans are grown organically in Ecuador, the Dominican Republic and Peru – all areas known for high quality cocoa. The result is superb bean quality and a truly sustainable brand, and I certainly enjoyed my bars of chocolate,  which are a handy size (35g), just right to pop into my handbag.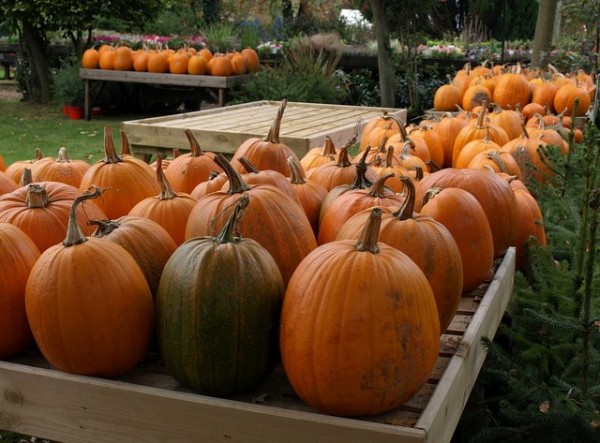 Autumn Pumpkins
I love the seasonal garden –  the stark bare branches of trees in the winter, the primroses on grassy banks in spring, cabbage roses nodding in the warm breeze during summer, and of course the autumn garden, almost contemporary in design with piles of brightly coloured leaves punctuating the borders and purple Michaelmas daisies dancing along edges of flagstone paths……whilst perusing the web the other night, I happened upon a lovely garden design site, Floral & Hardy garden designers; their designs echo the seasons; and I love how they describe a beautiful garden as literally 'the room outside'; a place where you can relax and enjoy the changing seasons and a place that reflects your own personality. British gardens also supply us with so many wonderful seasonal fruit and veg………in season in British gardens right now are: 
Beetroot
Carrot
Celeriac
Fennel
Field – Mushrooms
Kale
Leeks
Lettuce
Marrow
Potatoes
Pumpkin
Rocket
Sorrel
Squashes
Sweetcorn
Tomatoes 
Watercress
Apples
Blackberries
Damsons
Elderberries
Pears
Plums
Quince
Sloes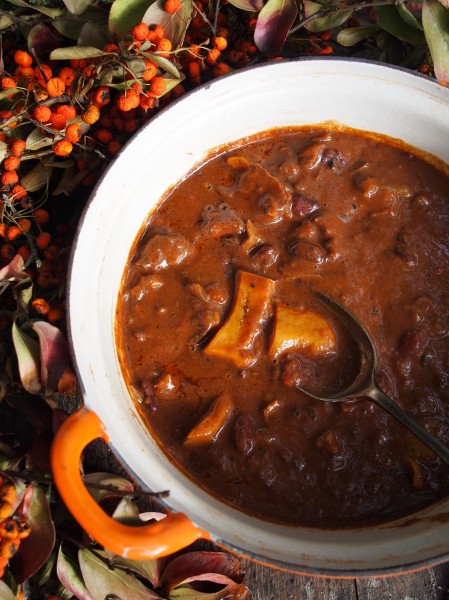 It's the seasonal pumpkin that I am in love with right now, that most iconic of autumn veg – carved for Halloween, roasted for soups and stews, puréed and put into pies for Thanksgiving across the pond and made into jam and chutney too….its cheery orange presence  makes an autumn garden so jolly and gay, whilst providing endless meals throughout the season, as well as spook-tacular (sorry!) candlelit displays. Its earthy flavour is amazing with beef and other robust red meats, and by adding it into my chilli recipe, you are also increasing your five-a-day intake too. It's also very handy thatNazima and Laura's One Ingredient challenge this month is Pumpkin, as is the We Should Cocoa challengetoo, hosted by Choclette and The Hungry Hinny……..so, it's pumpkins all the way with organic October chocolate, perfect!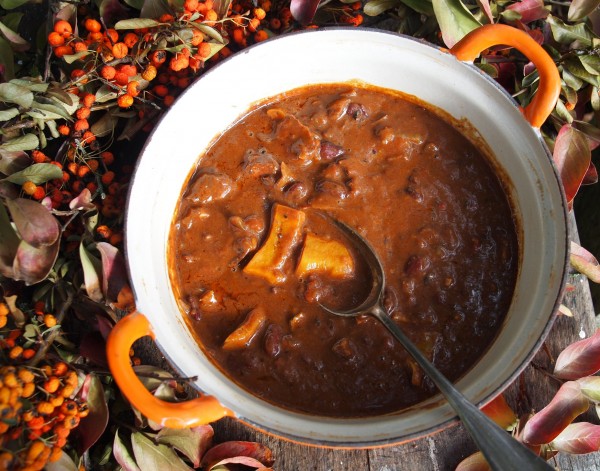 Bonfire Chilli with Beef, Chocolate and Pumpkin
I hope you enjoy this recipe if you make it, it's a perfect family meal for this time of year, and, you can adjust the chilli seasoning to suit. I have made it twice now and the second time I made it in my slow cooker (Crock Pot) and it was wonderful – I cooked it on high for 4 hours and then turned it down to low for a further 4 hours……result – meltingly tender and rich chilli with discernible pieces of pumpkin. I served it with plain boiled rice, but, American style with grated cheese, sour cream and crackers or tortilla chips would be perfect for a large gathering. I have called this chilli recipe Bonfire Chilli, as this is JUST the kind of meal that can be made for Bonfire night, (or Halloween)and  it will stay warm for hours in a slow cooker (crock pot) ……that's all for now, have a great day, see you soon, Karen.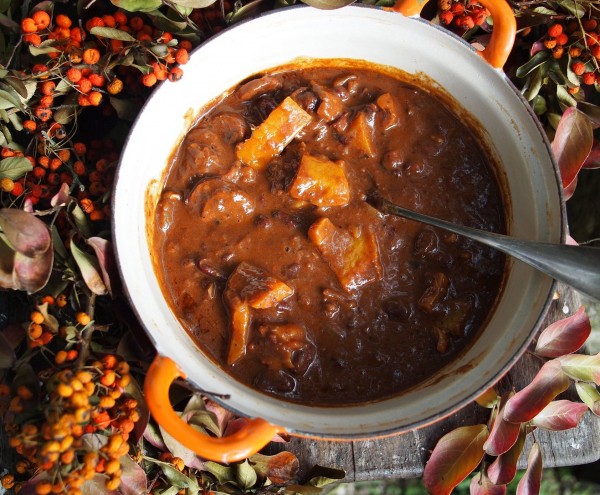 Bonfire Chilli with Beef, Chocolate and Pumpkin
Bonfire Chilli with Beef, Chocolate and Pumpkin

Print recipe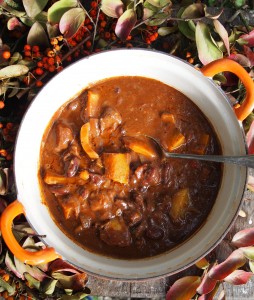 Ingredients
700g beef (such as braising, stewing or shin)
1 tbsp vegetable oil
2 medium onions (peeled and diced)
3 cloves garlic (peeled and minced)
1/2 small pumpkin (peeled and diced into small cubes)
1/2 fresh red chilli (de seeded and finely diced)
2 tspns ground cumin
1 tspn ground coriander
1/2 tspn ground cinnamon
1 tspn dried oregano
1 tspn chiili powder (I used Chipotle chilli powder)
2 tbsp tomato puree
2 tbsp tomato ketchup
1 x 400g tinned chopped tomatoes
1 x 400g tinned red kidney beans (drained)
2 x 35g bars of Go-Do organic dark chocolate, broken into small pieces (or chocolate of your choice minimum 60% cocoa solids)
salt and pepper to taste
a little water
Note
A rich chilli made with pieces of beef rather than minced beef and with an added autumnal ingredient, pumpkins! Chocolate is also added to this beefy chilli, for an authentic Mexican taste – it enhances the depth of flavour in this comforting dish, and adds a silky richness. (I used organic Go-Do chocolate) Serve this with plain boiled rice, or in bowls with grated cheese and sour cream on top, and tortilla chips for dipping!
Directions
| | |
| --- | --- |
| Step 1 | Preheat the oven to 150C/300F. |
| Step 2 | Heat the oil in a suitably sized casserole dish or Dutch oven – I used a Le Creuset casserole dish. Then fry the onion, garlic, chopped pumpkin and fresh chilli gently without colouring for 5 minutes. |
| Step 3 | Add the cumin, coriander, cinnamon, oregano and dried chillies and stir in. |
| Step 4 | Add the diced beef to the onion mixture and pumpkin mixture, and mix gently before stirring in the tomato purée, ketchup, drained kidney beans and tomatoes. |
| Step 5 | Give it all a stir and bring the chilli to a simmer. Add the pieces of chocolate and stir in, put on the lid and transfer to the oven, cook for 2 ½ to 3 hours or until the beef is tender, stirring occasionally. (If it becomes too dry, add a little water to the chilli.) |
| Step 6 | Season to taste with salt and pepper, and adjust the chilli heat if needed, before serving with boiled rice or with grated cheese, tortilla chips and sour cream. |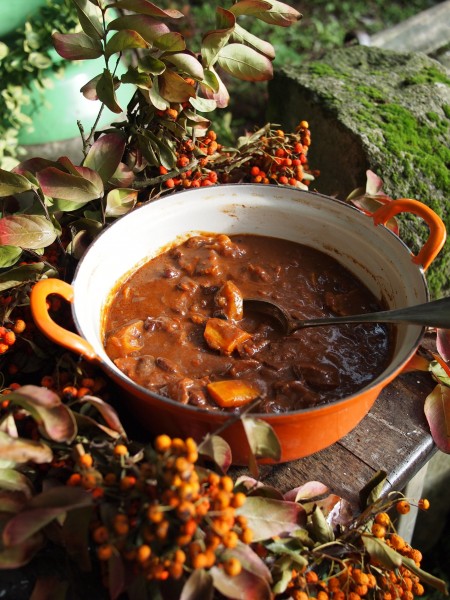 Bonfire Chilli with Beef, Chocolate and Pumpkin
I am also entering this into Simple and in Season, as it is a VERY seasonal recipe – hosted by Renand this month, guest hosted by Nazima